Lea abajo en español
Flux Factory invites international artists and supporters to the Annual Auction on December 5th at PLAXALL Gallery in Long Island City, to enjoy the artistic event and support this non-profit organization whose aim is to promote contemporary art and the artistic and cultural diversity.
Flux Factory is an exceptional place located in New York. Founded in 1993 by seven artists in Williamsburg, Brooklyn, who wanted to offer an alternative space to a "commercial gallery," Flux Factory became a dynamic platform where community work is foregrounded. Since 2002, Flux Factory has been based in Long Island City, Queens, as a non-profit organization its mission is to support artists through a residency program that gathers more than 40 artists each year. Flux offers exhibitions, education programs and diverse collaborative opportunities. The spirit of building a solid and sustainable artists network makes Flux Factory unique within the New York art scene.
For more than 10 years, Flux Factory has held the Annual Auction, a party and celebration that supports the important programming produced by Flux Factory each year. The event honors luminaries of the Art Community, such as the PS1 Founder Alanna Heiss; the founder of the Rubin Museum and Blade of Grass Shelley Rubin; the Counselor Jimmy Van Bramer; the Guerrilla Girls.
In a beautiful evening with spectacle and art, art works will be auctioned to fundraise for 2018 programming. Each year surpases expectations, Flux Factory's Annual Auction has had remarkable artists such as Sol Lewitt, Swoon, Rikrit Tiravanija, Peter Doig, Zackary Drucker, Cory Arcangel, Genesis P´Orridge, Duke Riley, among others. This year there are more than 85 works at auction, and can be bid on at www.paddle8.com/auction/flux-factory/.
What makes Flux Factory an attractive and productive space? Perhaps its unique roof that offers a wonderful industrial view of Queens, or the non-stop activity of artists, curators, musicians and creative people from around the world who are Flux Factory residents; It could also be the chameleon gallery that can be transformed from an experimental theater to a white wall gallery hosting performances, paintings, installations, photography, while other times it becomes a reflective space to discuss relevant issues such as the university debt, language diversity, and many more topics. The unique building, once a greeting card factory, is made of concrete and bricks, with visible pipelines and other materials that reference its industrial past, being within this space inspires projects that address the complexities of the urban community. Flux Factory is definitely a one-of-a kind space, where dreams come alive and a Flux resident is a Fluxer forever.
...........
Arte, Subasta y Flux!
Por Emireth Herrera
Flux Factory invita a la comunidad artística internacional a la Subasta Anual este 5 de Diciembre en la PLAXALL Gallery de Long Island City, para disfrutar de este evento y apoyar a esta organización con el fin de que siga promoviendo el arte contemporáneo y la diversidad artística y cultural.
Flux Factory es un lugar excepcional en Nueva York, fundado en 1993 por siete artistas en Williamsburg, Brooklyn, su objetivo fue crear un espacio alternativo a una "galería comercial", convirtiéndose en una plataforma dinámica donde el trabajo en comunidad es esencial. Desde el 2002 Flux Factory se ubica en Long Island City, Queens, es una organización sin fines de lucro y su misión es apoyar e impulsar artistas a través de un programa de residencias que reúne a más de 40 artistas por año, ofrece exposiciones, programas educativos y diversas oportunidades de colaboración. El espíritu de construir redes artísticas sólidas y sustentables hace posible generar una energía única en la escena del arte contemporáneo de Nueva York.
Desde hace más de 10 años Flux Factory realiza la Subasta Anual, una de las más grandes celebraciones de convivencia entre organizaciones y programas de arte, artistas y creativos para apoyar la programación artística de Flux Factory cada año. Este evento tiene grandes invitados de la comunidad artística como la fundadora del PS1 Alanna Heiss; la fundadora del Rubin Museum y Blade of Grass Shelley Rubin; el Consejero de la Ciudad Jimmy Van Bramer, y las Guerrilla Girls, entre otros. En una velada de espectáculo y arte se subastan obras de artistas afines a Flux. Cada año se supera la expectativa y se ha contado con la presencia de obra de destacados artistas como como Sol Lewitt, Swoon, Rikrit Tiravanija, Peter Doig, Zackary Drucker, Cory Arcangel, Genesis P´Orridge, Duke Riley, entre otros. Este 2018, se espera subastar más de 85 obras, que pueden ser apostadas en el link and can be bid on at www.paddle8.com/auction/flux-factory/.
¿Qué es lo que hace que Flux Factory sea atractivo y un espacio generador de proyectos? Quizá sea su peculiar terraza que ofrece una maravillosa vista industrial de Queens o la constante actividad de grandes artistas, curadores, músicos y creativos de todo el mundo que son residentes de Flux Factory, o tal vez la camaleónica galería que se transforma de un teatro experimental para performances, a una galería con muros blancos que exponen pinturas, instalaciones, fotografía, mientras que otras veces se convierte en un espacio de reflexión sobre temas relevantes como la deuda universitaria, la diversidad lingüística, entre muchos otros ejemplos. Además, de tener una arquitectura muy especial que anteriormente albergó una fábrica de tarjetas, está hecha de concreto y ladrillo, las tuberías y otros materiales aparentes son fuente de inspiración para crear proyectos que resaltan la producción artística de Queens. Definitivamente Flux Factory es una fábrica de flujo, un lugar único de inspiración y de sueños que se materializan, y un residente Flux es Fluxer por siempre.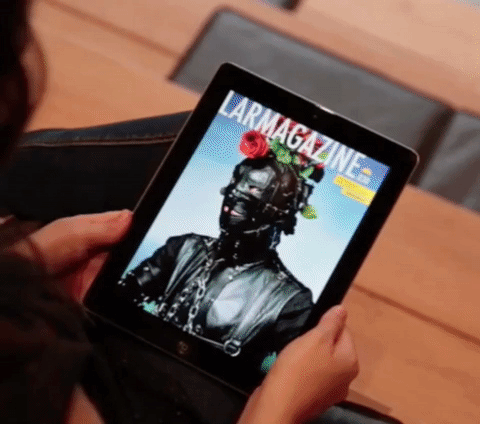 DOWNLOAD OUR CURRENT LARMAGAZINE.030 FACIAL RECOGNITION FOR IPAD AND TABLET AND LARMAGAZINEpkt FOR SMARTPHONES.